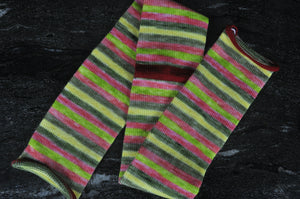 This cranked Twin Design features soft shades of greens, pinks and yellow which calm and provide a warm embrace.
two matching sock tubes
suitable for a Women's size 8 to 10

semi-tonal pattern repeats every 6 stripes

80% superwash Merino / 20% nylon blend
approximately 50g + 50g / 200m + 200m
fingering weight

gen

tly hand wash in cold water

air dry
may bleed
To knit heels, toes and cuffs, we suggest you use 2.25 mm to 2.5 mm needles.
The following Mini Sock yarn colours complement Tea Thyme to add heels, toes and cuffs:  Coral Orange, Coral Pink, Forest Green, Lichen Green, Lime Green and Mellow Yellow.  Please click on the name of the colour to order.
All yarns are hand dyed in a smoke-free, pet friendly environment.
Great care is taken when photographing our yarns to represent their colour accurately however, the colour may vary from monitor to monitor.
Please ensure that you purchase enough yarn for your project since colours may vary in future dye lots.
Please note: There are no returns, exchanges or cancellations.  Please contact Timber Yarns if you have any problems with your order.